WINNING CUSTOMERS OVER AGAIN AND AGAIN
The telecom industry is now in the state of hyper consumerism. There is a definite shift from traditional service delivery and care to a new paradigm wherein the customer is all powered to make his own choices making use of the latest technology and obtaining services tailored for him / herself at the ease of his fingertips.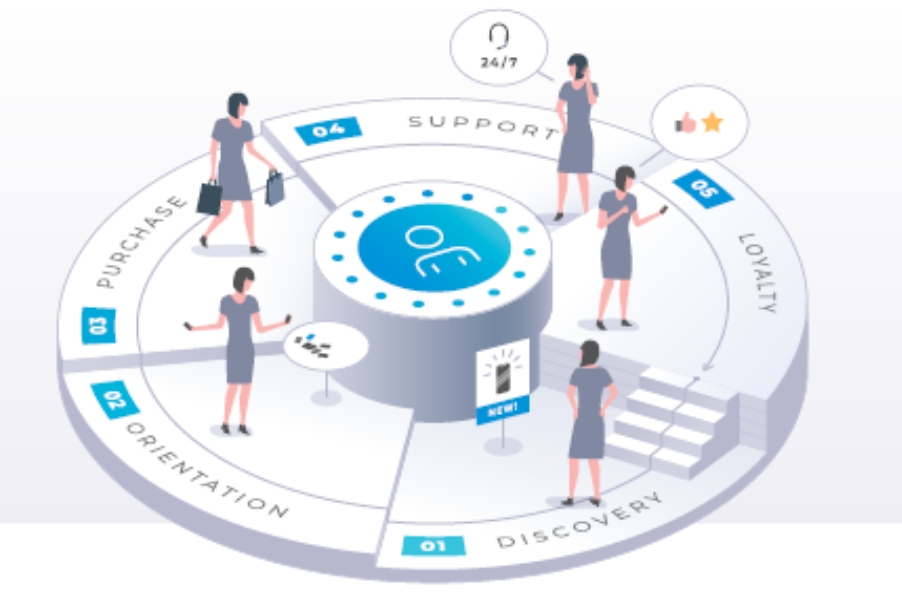 The inability or limited ability to deliver this experience has had an immediate impact in increase in customer churn. As a result, Telecom providers are forced to look at retaining and maintaining customer bases with increased customer stickiness. The price delivering services however has remained at par which has resulted in cost pressures. While the industry has had a successful "customer first" management approach for the last decade or so, customer needs and sentiments are changing rapidly. To keep pace, operators must take large technological leaps. Fortunately, with the growth in touch points, the opportunities to improve CX have also grown. For operators determined to address CX at each moment of truth in the customer's journey, the rewards are ample and quick.
The bottom line of this is for all to see. Customer experience in coming days will become more and more important. Customers are expecting a seamless experience from onboarding to care journeys. Customer experience is highly dependent on software systems of the organization. Enterprises need to upgrade their IT systems in order to overcome cut throat competition and customer retention in the world of numerous choices. Also the number of channels/touchpoints will increase significantly, think of Chatbot, kiosks and conversational commerce. Customers are expecting to receive the same service across all these touchpoints.
However, many Telco's are struggling with aging and legacy IT systems. Mergers and acquisitions in the telecom industry have led to siloed operation and disjoint IT backend systems, including an inconsistent distribution of data. All of this makes it difficult to achieve the required flexibility, agility and consistency in the customer experience. Complete transformation of large IT applications are complex, lengthy, risky and expensive projects.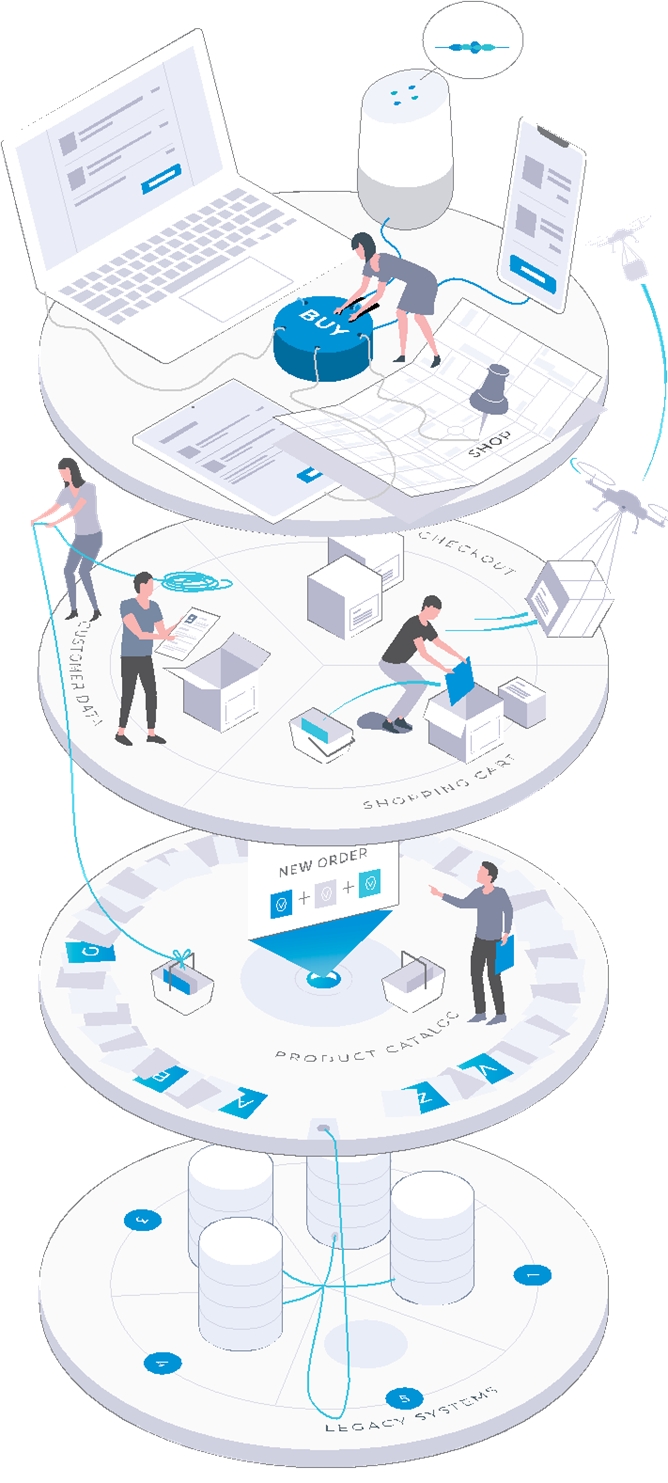 SIMPLIFY CUSTOMER JOURNEYS
The silo nature of many BSS/OSS make it hard for service providers to give customers the products and information they want, when they want it. Vendors often propose an extensive transformation project to replace inflexible legacy systems. Such projects are often long, tedious and expensive and guaranteed to disrupt business. They are looking for a different approach. What all Telco need is a product suite that enhances their existing systems by converging data from multiple IT stacks, and orchestrating sales and delivery practices consistently on all touchpoints. The TM Forum agrees that this approach to digital transformation provides the best balance between time‑to‑market, cost and risk.
MAKE IT EASY TO SELL COMPLEX PRODUCTS TODAY
Customer today expect a consistent and personalized experience across all touchpoints. The need is for an end-to-end customer experience solution with focus on commerce and sales journeys. The solution needs to drive a complete transformation of the customer experience in order to keep up with the "always-connected" customer.
BLUEMARBLE COMMERCE™

A CLOUD‑NATIVE, MICROSERVICES ‑BASED SOLUTION WHICH EMPOWERS A TRUE OMNI‑CHANNEL CUSTOMER EXPERIENCE. IT UNITES MULTIPLE LINES OF BUSINESS AND INTEGRATES EASILY WITH EXISTING IT BACKEND SYSTEMS
BlueMarble – Tech Mahindra's digital transformation accelerator – a micro services based framework with productized business services focusing on the transformation of existing IT systems and towards a digital customer experience. It is based on a consistent, cloud-native, containerized deployment and runtime environment, with integrated support for a complete CI/CD pipeline. It supports the consistent development, deployment of micro services.
We simplify the selling of complex products and enable our clients to provide a consistent, personalized & contextually relevant experience across all customer touch points. We also help clients transform sales and delivery process from an IT driven process to a customer-centric experience.
BUSINESS BENEFITS
In several Tier 1 client deployments BlueMarble Commerce™ supports business across all lines of business, fixed, mobile, cable and services and across assisted channels, retail and call center and digital channels, web shop and application, consistently.
Components are developed using a modern, flexible, adaptable and easy to integrate microservices architecture. It contains all the specifics required to support leading communication service providers and provides a low-code, easy to configure solution that enables rapid product and proposition launches and the ability to address customer requirements in a dynamic environment.
With the Customer 360-View customer account data and service subscriptions will be merged into a single view. The Shopping Cart is the essential component of the sales customer journey, supporting real-time rules evaluation and charge calculation. Shopping Carts are persisted to support cross-channel customer journey. Finally, the configurable Checkout not only decreases the average handling time, it also lowers the order fallout due to immediate data validation.
The headless design of the BlueMarble Commerce™ components supports the easy implementation of an omni-channel customer experience across digital and assisted customer touchpoints. BlueMarble Commerce™ APIs are aligned with the TMForum Open-API specification, with compatible extensions where required to support real-life deployments.


PRODUCT CATALOG
The Product Catalog converges customer and product data automatically in near real‑time to provide a single customer view and actionable business analytics. Converged data is easy to maintain and supports the creation of multi‑play bundles that combine traditional and digital products from different IT stacks. This allows you to quickly launch new propositions targeting specific consumers.
SHOPPING CART
Configure, Price, Quote (CPQ) is helping to define the price of products in a quick changing market. It is giving the opportunity to increase the deal size via cross-selling and upselling as well as closing deals quicker. Rule-driven logic and context-aware features allows customers to create personalized multi-play products, in addition to suggesting up-sell and cross-sell possibilities.
BUSINESS SERVICES
All BlueMarble business services provide pre-built UI components and complete functional components that enable fast creation of new user-facing applications. For standard use cases, like retail or call center, BlueMarble provides complete business applications that enable a consistent, optimized user experience within a single workflow.