CEO Message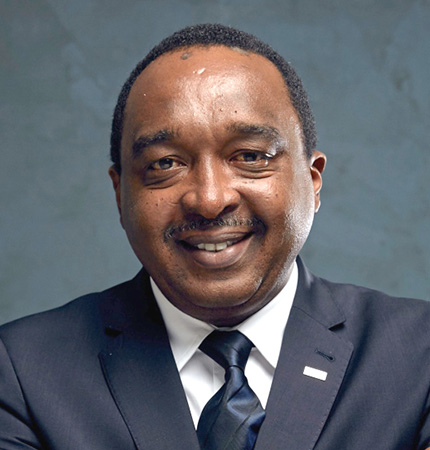 Mr. Bocar A. BA
CEO & Board Member
Following a year of much societal upheaval and transformational shifts across all walks of human endeavor, the Telecoms Industry holds an ever more important position as the key enabler of innovation and convenience. The Industry's enabling role has become very visible in multiple dimensions of the society's progress toward digital development and digital inclusion; an imperative that has now been extensively defined by regional governments through their ICT visions. The digital ecosystem is complex and, with the fourth industrial revolution in play, it is constantly evolving at a fast pace. Creating the right enabling environment through setting policies and regulatory agendas that can benefit all stakeholders in a sustainable manner, is a major challenge and requires an acute understanding of different stakeholders' needs, motivations, objectives, and a compassionate approach to the sustainability of the digital ecosystem, as a whole.
The Internet and "everything digital" has spurred demand for digital products and services across borders. Both Businesses and Consumers now are ever-more dependent on the use of the Internet and its services and applications. Governments now offer their services online, as the challenges for recovery in the post-pandemic era get acted upon. All, however, rely on network infrastructure, which has to be secure, resilient and fast to be able to deal with the increased data flows generated from online activities. And more is coming: IoT devices will emit vast amounts of data 24/7, 7 days a week, which requires significant storage and processing capacity. At the same time, internet business models and global competition are disrupting traditional business models and services, and are putting a strain on traditional revenues and investments.
The need to ensure sustainability of the industry and the expanding 5G/5G-Advance digital ecosystem has brought together telecommunications service providers and various stakeholders along the digital value-chain to collectively investigate how the speed of change is affecting the pace of business transformation. The sustainability of local network operators is key as the providers of the infrastructure that supports all digital and related economic activity. While trying to understand the impacts on their businesses from these developments and identifying the right digital transformation strategies, regulatory authorities and governments are struggling to adjust legacy regulatory and economic frameworks to the new technology- and market realities. A lot of questions are surfacing regarding the disruption caused, including what to do about cross-border data flows, taxation in the digital economy, spectrum availability, 5G and Digital Services use cases and much more.
To bridge the gaps in understanding of different stakeholder issues, and to align policy, regulatory, and private-sector priorities, SAMENA Council brings together different stakeholders and focuses on enabling and facilitating the proliferation of advanced Digital Services, addresses challenges in relation to Data Regulation, drives the harmonization of Operators' positions on Spectrum Management, and draws Regulators' attention to excessive Industry Fees and Taxation.
In South Asia, the Middle East, and North Africa, specifically, and by virtue of its leadership role in representing the Private Sector at the UN Member-State level, generally, SAMENA Telecommunications Council is at the centre of information and experience exchange, which is necessary for materializing digital transformation for the Industry itself as well as the economy of the region. With a mandate of voicing the needs and the issues of the telecommunications service providers to regulatory authorities and to policy-makers, SAMENA Council pursues policies and regulations that are flexible, forward-looking and technology neutral to enable digital transformation, the creation of smart environments, the roll-out of sustainable digital infrastructure, and the provision of digital services. SAMENA Council works proactively to ensure its presence and availability to both its industry- and public sector members to deliver on their expectations. Moreover, SAMENA Council is recognized by the industry for having built a leaders' community. This community serves the needs of the industry and its various stakeholders by improving value propositions, showcasing new, more adept business and policy-implementation practices, and creating opportunities through new relationships in a highly complex digital ecosystem.
Given the confidence and trust that SAMENA receives from its membership in its leadership and ability to carry out representative and advocacy work on behalf of its members, SAMENA Council has made strong headway in connecting with global organizations; and in being heard in top-level international forums. The Council has also been approached by both government and private-sector organizations to create new channels of cross-regional communication, which positively impact ICT policy-making efforts across borders and help create new business synergies for international market players.
Representing a community of the largest multi-network operator groups in the SAMENA region, SAMENA Council is a fully regionally-focused but globally active telecommunications and ICT advocacy and regulatory reach organization. In this regard, I am thankful to the SAMENA Council's Leadership of Operators, which now includes both Terrestrial and Satellite players, our Member Companies, our external partner organizations, and those government bodies that have indicated their trust to work with the SAMENA Council on new initiatives and have been receptive to the industry feedback shared with them by the SAMENA Council. We truly appreciate the ongoing support provided to the SAMENA Council by the Industry's top decision-makers, who constantly remain involved in what the Council does as a pan-regional telecommunications and ICT industry association, working extensively as an advocate for sustainability of the Industry.
I hope that the information provided to you here in our Web portal is of value to you and helps to activate your interest in business and policy areas of interest and importance to the telecommunications and ICT industry. I also hope that many more players in the digital ecosystem will take the interest to join SAMENA Council's membership.
Thank you for your interest in our work. We welcome your feedback and requests for information.
Yours truly,
Bocar A. BA